For the first time in a long time, television critics seem pleased with the Emmy nominations. Several outdated, repeat nominees (Sally Field,
Entourage
, etc.) were exchanged for fresh faces, and even some older but not yet recognized contenders broke through. The main complaints were the omissions of
Sons of Anarchy
's Katey Sagal (I haven't seen the show, but now I plan to do it very soon) and the new comedies
Community
and
Cougar Town
(I never connected with either of them, and I'm not surprised that Emmy voters didn't either). Out of the 60 nominations I predicted, I got 43 correct (not including my seventh spots, five of which made it into the actual top six), which just
barely
comes out to a passing percentage. Considering I only got one less than Entertainment Weekly's
Michael Ausiello
, I think I did just fine. It was a morning filled with shock, disappointment, and even tears (at least for me). Here's an overview of what happened.
Surprises:
Kyle Chandler & Connie Britton,
Friday Night Lights
(Lead Actor & Actress in a Drama Series) - This was easily the biggest shocker of the entire morning. I literally did not believe it when I heard Chandler's name. I was so confused. For years I had heard all about the great
Friday Night Lights
and how it always got snubbed at the Emmys. Then before I could even process Chandler's nomination in my mind, I heard Connie Britton's name. At this point I might have started crying. I watched seasons one through three for the first time this summer, so I wasn't a fan of the show when it had been snubbed in the past. After watching it, I clearly understood why everyone was so upset. These actors are two of the strongest dramatic leads on television, and I cannot express how ecstatic I am to see them finally rewarded for it.
Nurse Jackie
(Comedy Series) - Everyone assumed Edie Falco would make the shortlist for lead comedy actress, but no one expected the series to earn a nomination as well. It took the spot of previous Showtime nominee,
Weeds
(a spot most critics predicted would belong to
The Big Bang Theory
).
True Blood
(Drama Series) -
It's not very often that vampire shows get noticed at the Emmys (re:
Buffy
).
True Blood
managed to break into the drama category despite having zero other nominations in the acting, writing, and directing categories.
Jesse Tyler Ferguson,
Modern Family
(Supporting Actor in a Comedy Series) - It's nothing against Ferguson; he's hilarious on
Modern Family
. But as far as most critics were concerned, Ferguson was farther down on the contenders list than Rico Rodriguez. He got nominated instead of Ed O'Neill (who should have submitted in the lead category), which means O'Neill is the show's only adult cast member without a nomination.
Favorites:
Chris Colfer & Mike O'Malley,
Glee
(Supporting & Guest Actor in a Comedy) - The best father-son duo on television earned nominations in their respective categories. Colfer was more of a surprise, considering he's only 20 and competing against actors like Neil Patrick Harris and Eric Stonestreet. But the two deserve it because they give the most heart warming performances on the show.
January Jones,
Mad Men
(Lead Actress in a Drama) - Words cannot describe how happy I was when I heard her name called. Finally Jones managed to earn a nomination after three seasons of phenomenal work. It's a shame Margulies is such a lock for the win, because I would love to see the Emmy go to Jones or Britton instead.
Outstanding Guest Actress in a Comedy Series - Kristin Chenoweth, Tina Fey, Jane Lynch, and Betty White are all in the same category together. COULD THERE BE A MORE AWESOME CATEGORY?! I didn't think so.
"Niagara" -
The Office
(Writing for a Comedy Series) - I just really
really
want Mindy Kaling to win an Emmy. Mainly because I love everything she says on
Twitter
.
"The Son" -
Friday Night Lights
(Writing for a Drama Series) - It's a miracle
FNL
was able to break into such a solid category. It really says something to be listed alongside the
Lost
finale and two episodes of
Mad Men
. "The Son" was such a phenomenal hour of drama.
Archie Panjabi,
The Good Wife
(Supporting Actress in a Drama Series) - I need to catch up on
The Good Wife
ASAP. Everyone (correctly) predicted that name recognition would guarantee Christine Baranski a supporting nomination for the series, but I'm more excited to see Panjabi on the list. From what I saw of the first season, she was my favorite character.
Matthew Fox,
Lost
(Lead Actor in a Drama Series) - What an amazing tribute to the show's final season after six years of great work!
Elizabeth Mitchell,
Lost
(Guest Actress in a Drama Series) - This might be my favorite nomination. I'm considering it the Academy's official apology for ignoring this last year:
Snubs: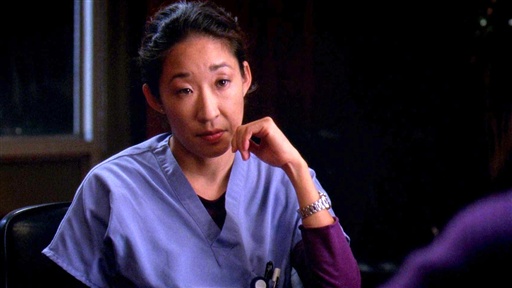 Sandra Oh & Chandra Wilson,
Grey's Anatomy
(Supporting Actress in a Drama Series) - Oh has received a nomination for every year of the show's existence, and Wilson only has one less. Yet both disappeared completely from the race this year. It's too bad, because I think Oh especially earned her spot. If I could, I would give her the trophy right now.
Chloë Sevigny,
Big Love
(Supporting Actress in a Drama Series) - Since her Golden Globe win last year, Sevigny has appeared on almost every critic's prediction list. Still, it's no surprise that she didn't get nominated, because none of the wives of
Big Love
have ever earned a nomination (despite seriously deserving one). Instead the show received two well-earned guest actress spots for Sissy Spacek and Mary Kay Place.
Friday Night Lights
(Drama Series) - It was amazing that Kyle Chandler and Connie Britton finally got recognized, but I don't understand why the series didn't get a nomination. It's also a shame that Zach Gilford didn't get a nomination for his outstanding guest work in "The Son."
Parks & Recreation
(Comedy Series) - The show's hit sophomore season was shut out by newcomers and previous winners. Though it earned a spot for lead actress Amy Poehler, the hilarious Nick Offerman will have to settle for his TCA nomination.
What?!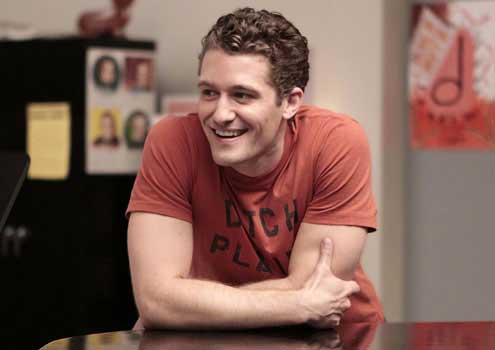 Matthew Morrison,
Glee
(Lead Actor in a Comedy Series) - I really don't get it. He's not funny (nor is he really even the show's lead). In fact, his character is pretty much despised by most fans for his awkwardness and constant rapping. Surely other actors were more deserving.
19 nominations for
Glee
- I enjoy the show, and it certainly has some great moments. But is it really worthy of
nineteen
nominations? That's more than any other series this year, including
Mad Men
,
30 Rock
, and
Modern Family
. It got recognition where it was deserved (Jane Lynch, Lea Michele, Colfer, O'Malley, Chenoweth, etc.), but the Emmy love for
Glee
this year was a bit excessive.
Andre Braugher,
Men of a Certain Age
& Sharon Gless,
Burn Notice
(Supporting Actor & Actress in a Drama Series) - I'm not going to say anything about the quality of either performance, since I have seen neither show (though both seem to be getting positive reactions to their nominations). Rather, I am just confused about how they got nominated. They had little to no buzz and appeared on nobody's prediction lists. I suppose it's nice to have a few wild cards thrown in every now and then.
The full list of nominees can be found on the
Emmys website
.
Currently watching:
Six Feet Under Season 4
Episode 1 - Falling Into Place