The Emmys are almost here! It's time for some final analysis before the awards are handed out tomorrow evening. The lead actors seem to have no clear winner yet, while the lead actress categories are all but locked up. Only time can tell who the final victors will be.
Outstanding Lead Actor in a Comedy Series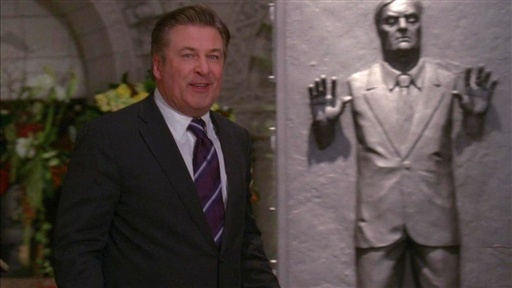 Frontrunners:
Alec Baldwin,
30 Rock
("Don Geiss, America, and Hope") - He's won for the past two years, but this year may be the year another actor can end Baldwin's streak. His episode isn't as strong as his previous two but never count a
30 Rock
contender out of the race.
Tony Shalhoub,
Monk
("Mr. Monk and the End") - Shalhoub already has three Emmys for playing Monk, and this year's two hour series finale could easily bring him a fourth.
Dark Horse:
Jim Parsons,
The Big Bang Theory
("The Pants Alternative") - The man has to win an Emmy eventually. His work is brilliant, and this year he's entered the competition with another very funny episode. Perhaps with
30 Rock
buzz dying a little and a lack of other strong competitors, Parsons could take home the trophy tomorrow night.
The Rest:
Steve Carell,
The Office
("The Cover Up") - He's never won an Emmy before, so I don't see why the academy would choose to finally award him now after the worst season in
The Office
's history. Expect him to be a frontrunner next year when he finishes his final season on the show.
Larry David,
Curb Your Enthusiasm
("Seinfeld") - Since he's playing himself, he's not really seen as much of an "actor" on his show. However, his episode, featuring the cast of
Seinfeld
, boosts his chances a little bit.
Matthew Morrison,
Glee
("Mash-Up") - His episode submission is absolutely terrible (it includes two rap numbers), he's overshadowed by the younger actors, and he's not very funny. Unless the Emmys go absolutely crazy over
Glee
this year, he has no chance.
Outstanding Lead Actress in a Comedy Series
Frontrunners:
Edie Falco,
Nurse Jackie
("Pilot") - She has been predicted to win this Emmy since Showtime announced that Falco would be headlining a new comedy series. Emmy voters loved her on
The Sopranos
, and that love will carry over to
Nurse Jackie
.
Toni Collette,
United States of Tara
("Torando!") - Collette scored a very deserving win last year and has come back for more. Her episode is probably the strongest of the group, as she rapidly transitions into all of her multiple personalities during a tornado. She could easily take the award from Falco.
Tina Fey,
30 Rock
("Dealbreakers Talk Show #0001") - As long as she's in the running, Tina Fey will always have a solid chance to win. This year she submitted one of her funniest performances ever on a show that the academy has shown lots of love for in the past.
Dark Horse:
Lea Michele,
Glee
("Sectionals") - Michele still has a chance to win, since this category has recently seemed to favor newcomers (Felicity Huffman, Julia Louis-Dreyfus, America Ferrera, Toni Collette). Also,
Glee
has received a lot of attention this year, which could help the award go in Michele's favor.
The Rest:
Amy Poehler,
Parks & Recreation
("Telethon") - Perhaps voters just don't "get"
Parks
, since they failed to nominate the series, even though it was one of the strongest comedies on television this season. Unlike the other contenders, Poehler doesn't have the necessary support to come out victorious in this race.
Julia Louis-Dreyfus,
New Adventures of Old Christine
("I Love What You Do For Me") - She's already been rewarded for this role, and it's unlikely that Emmy voters will choose her canceled series over her strong competitors.
Outstanding Lead Actor in a Drama Series
Frontrunners:
Bryan Cranston,
Breaking Bad
("Full Measure") - Cranston is undefeated at the Emmys for his role on
Breaking Bad
. He could easily pull off a threepeat this year with another strong season under his belt.
Michael C. Hall,
Dexter
("The Getaway") - He won at the Golden Globes and the SAG Awards for this season of
Dexter
. It looks like this could finally be the year that Hall wins the Emmy he's deserved since the first season of
Six Feet Under
.
Jon Hamm,
Mad Men
("The Gypsy and the Hobo") - Somehow
Mad Men
has won Outstanding Drama Series two years in a row without ever winning an acting award. Hamm has definitely performed well, but he always gets bested by Cranston. Perhaps his intense episode submission will seal the deal this year.
Dark Horse:
Hugh Laurie,
House
("Broken") - Laurie is long overdue, and the dramatic two hour season premiere (which takes places in a mental hospital) is probably his best shot at finally winning.
The Rest:
Kyle Chandler,
Friday Night Lights
("East of Dillon") - The man certainly deserves the award, but it seems unlikely to happen since it took the academy four seasons to finally give him a nomination. But we can still hope for a surprise upset!
Matthew Fox,
Lost
("The End") - Fox does a great job in the series finale, but the episode is two and a half hours long. His performance could easily be overlooked because of everything else going on in the episode.
Outstanding Lead Actress in a Drama Series
Frontrunners:
Julianna Margulies,
The Good Wife
("Threesome") - The woman has it all. She has the buzz. She has the Golden Globe. She has the SAG. She has an Emmy from
ER
. And most importantly, she deserves all of it.
Glenn Close,
Damages
("Your Secrets Are Safe") - Close has dominated this category for the past two years. She's won every year she's been eligible for
Damages
. This year she faces her toughest competition with a weak episode and a less buzzed about season of
Damages
. But the woman is unstoppable and could easily take home her third consecutive Emmy.
Dark Horse:
Kyra Sedgwick,
The Closer
("Maternal Instincts") - Many people believe Sedwick is long overdue for an Emmy, and apparently (I don't watch
The Closer
) her episode submission this year is her best yet.
Wild Card:
Connie Britton,
Friday Night Lights
("After the Fall") - Britton has never competed in the Emmys before. Now that the voters will have to watch her in an episode of
Friday Night Lights
, they won't be able to deny that she talent. Unfortunately, she was nominated in the season that didn't show case her abilities as well as the previous ones. She most likely won't be able to defeat the likes of Margulies and Close, but she still has a chance.
The Rest:
January Jones,
Mad Men
("The Gypsy and the Hobo") - Her episode is fantastic and really showcases her abilities as an actress. Still, opinions about her performance are very divided, which prevents her from being as strong of a contender as she should be.
Mariska Hargitay,
Law & Order: SVU
("Perverted") - Hargitay has already won and isn't as popular as she used to be. Several critics question her nomination and believe that she has overstayed her welcome in this category.
Coming Soon: My thoughts on the nominees for Outstanding Comedy and Drama Series
Currently watching:
Sons of Anarchy Season 1
Episode 2 - Seeds