Tonight! The Emmy festivities will begin shortly, so before I post my final predictions, it's time to look a little more closely at the shows that will be competing for the title of Best Comedy Series and Best Drama Series.
Outstanding Comedy Series
Frontrunners:
Modern Family
- When competing for an award for the best comedy series on television, it helps to be the best comedy series currently on television. The freshman series puts a twist on the traditional family sitcom, meaning that Emmy voters can vote for something safe and comfortable, while still feeling hip and cool.
Glee
- The series has already proved itself to be a strong competitor at all the previous award shows. Even though it's first season has received mixed reviews, clearly
Glee
is a force to be reckoned with.
30 Rock
- Never underestimate a show about TV with a three year Emmy streak. Voters have proven they love
3o Rock
over and over again. Despite a "weaker" fourth season, the series could still come out on top.
The Rest:
Nurse Jackie
- It may have been a surprise nominee, but a directing nomination means that Edie Falco isn't the only thing Emmy voters love about this series.
Curb Your Enthusiasm
- The Emmys loved
Seinfeld
, and the reunion on this season of
Curb
gives the series a small chance at victory. Even with that help, the show lacks the buzz of the three newcomers and the previous wins of
3o Rock
.
The Office
- There is no way this show could win after such an awful season. Even the Emmys aren't that cruel.
Outstanding Drama Series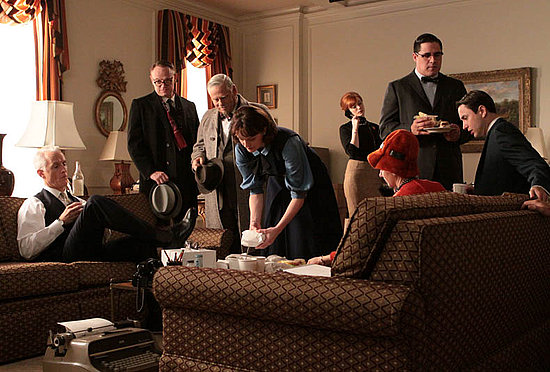 Frontrunners:
Mad Men
- The series has won for the past two years, and it certainly hasn't dwindled in quality. In fact, season three of
Mad Men
was probably the show's best. If
Mad Men
loses tonight, it would not be a reflection of the show's performance this year. Rather, it would be in order to honor a finished series (
Lost
) or congratulate a new one (
The Good Wife
).
Lost
- The final season of this epic series was not the best, but it probably had the most buzz. Everyone seemed to be talking about
Lost
this year. Season six was not on par with the Emmy-winning first season, but it could still win as a final farewell and a general celebration of the series as a whole.
Dark Horse:
The Good Wife
- The network drama has certainly proven itself worthy of being listed among its cable competition. Five acting nominations and a writing nomination means that
The Good Wife
is more than just a nominee. It's a serious player in this category and could be one of the biggest surprises of the night.
The Rest:
Dexter
- Lots of buzz surrounded Michael C. Hall and John Lithgow this season, which could push the series into the winner's circle. But most likely the show will have to settle for the acting victories (Lithgow has already won Guest Actor, while Hall remains a serious competitor in Lead), while
Mad Men
reigns for another year.
Breaking Bad
- Unfortunately, this brilliant drama series will always be in competition with the other AMC series,
Mad Men
. They are both so well done, but besides Bryan Cranston,
Breaking Bad
seems to always get overlooked.
True Blood
- The melodramatic and campy series should just be thankful it was able to break the Emmy nomination curse for vampire shows. It may be popular and addictive television, but it is certainly not on the same level of quality as its competitors.
Coming Soon: My official prediction list!
Currently watching:
Sons of Anarchy Season 1
Episode 3 - Fun Town